1 Year Supply - SpongeBath Concentrate & Premium Sponges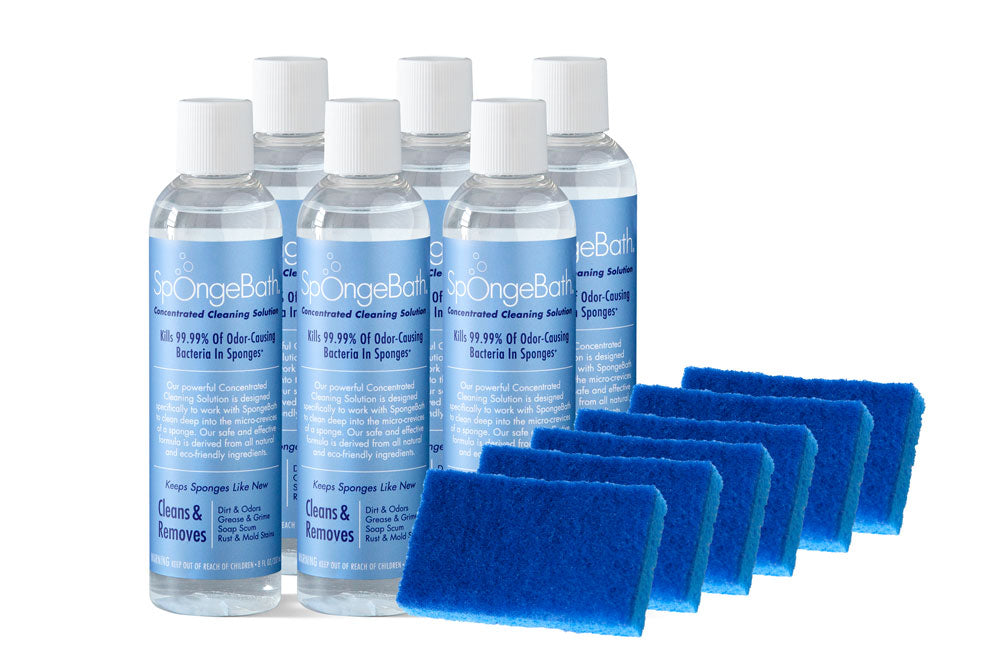 Our powerful Concentrated Cleaning Solution is designed specifically to work with SpongeBath to clean deep into the micro-crevices of a sponge. It is made from pure, food-grade ingredients without fragrances, parabens or harsh chemicals. With just one ounce per week, you will always have a fresh, clean sponge. When used with SpongeBath, our Concentrated Cleaning Solution:
Kills 99.99% of odor-causing bacteria in sponges
Eliminates odors
Cleans & removes grease and grime and mold stains
Keeps your sponge fresh like new
Each bottle of our Concentrated Cleaning Solution will keep your sponges clean and fresh for up to 8 weeks! 
Also enjoy a SpongeBath premium cellulose sponge with every delivery of your subscription to Concentrated Cleaning Solution. 
SUPERIOR QUALITY SPONGES - Our sponges are proudly manufactured in the USA using the highest quality cellulose for a superior non-scratch clean. Each sponge is individually wrapped and sealed so they wont dry out and can be easily stored.

100% REAL CELLULOSE - Not cheap fibers.

100% BIODEGRADABLE - Our sponges are easy on the planet; completely biodegradable and eco-friendly.

100% SCRATCH FREE - Gently lifts away all forms of dirt and grime without ever scratching any surface.

100% GUARANTEE - We stand behind the quality of our products. If you are not completely satisfied for any reason, you can return them for a full 100% refund, no questions asked.